(Junior) Fellows, Research Associates, and University Interns: Mini-'Brown Bag' Research Session. If you would like to join us, please email alessandra.benedicty@wereldculturen.nl for the Zoom link. The Zoom link will be sent the morning of Tuesday, June 2.
In an effort to nurture research on the collection of the Nationaal Museum van Wereldculturen (NMVW), which consists of nearly 450,000 objects and 750,000 photographic images, theResearch Center for Material Culture (RCMC), the research institute of the Tropenmuseum, the Museum Volkenkunde, the Afrika Museum, and the Wereldmuseum in Rotterdam, welcomes fellows, junior fellows, research associates and university student interns.
In response to the request from one of our year-long PhD interns, Johanna Strunge, that we learn more about each other's inquiries and offer a means of doing research in a time in which social distancing and travel restrictions ask that we think our work differently, this mini-conference offers just one way for us to connect across spaces. We especially thank those joining us from around the world in the hours "entre chien et loup" [between dusk and dawn].
Researchers will briefly (4-5 minutes) present their work. Head of the RCMC Wayne Modest and Chief Curator Henrietta Lidchi will start-off our discussions.
PROGRAM
15:00—15:10 Opening and Welcome: Wayne Modest, Head, Research Center for Material Culture
15:10—15:20 First Deliberations: Henrietta Lidchi, Chief Curator
15:20—15:40 Materialities I
Roberto Costa | The Making of Asmat Vernacular Crucifix-type Carvings through History
Ella Broek | The Affective Potential of the Koto: On the dynamic interaction between clothing and the body
Tania Christina Monteiro | Meeting Mami Wata
Mary Caton Lingold | Musical Life (1600-1800): Experiences of survivors of the Middle Passage living on Caribbean plantations
10-minute Q&A
15:50—16:10 Engaging Otherwise with Ethnographic Museums
Ailish Toal | Impossibilities of Translating Gender: Recent scholarship on Hijra/Kinnar and Fa'afāfine
Jessica Hemmings | Reading Material
Fresco Sam-Sin: Things That Talk
Sara Guagnini | Memory, affects, emotion, desires, imagination and creativity in the Anthropocene
10-minute Q&A
16:20—16:30 Break
16:30—16:50 Materialities II: Between and Among Mbembe's 'Post-Colony'
Amélie Couvrat Desvergnes | Study on the Materiality of the Indian Northwestern Drawings and Paintings (Pahari and Punjab) from Museum Volkenkunde
Karwin Cheung: Literati painting with works from the Ming, Qing, and Republican periods
Sabine Bolk | Re-telling the History of the (Indo-)European Influence on Batik
Carlee Forbes | Creative Mediations: Art, innovation, and collecting in colonial-Era Congo, 1880-1940
10-minute Q&A
17:00—17:15 Urbanisms and the Ethnographic Museum
Johanna Strunge | Coffee, tobacco and spices on display – Colonial goods shops in museums
Paoletta Holst & Paolo Patelli | Blending Pure Water, Urbanism, Pseudo-science, (Amateur) Ethnography, Entrepreneurialism — in/from the works of H. F. Tillema
10-minute Q&A
17:25—17:30 Final Words, Wayne Modest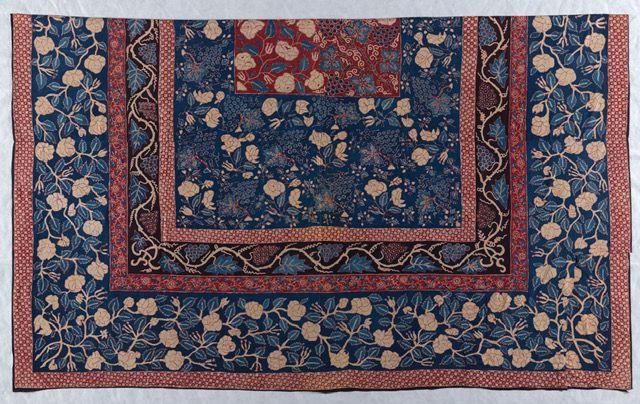 Batik bedcover, donated by a niece of Von Franquemont, WM – 26938
Sabine Bolk | Re-telling the History of the (Indo-)European Influence on Batik
Working together with Batik-makers, researchers, museum professionals, collectors and connoisseurs of Batik, our research project retells the history of the (Indo-)European influence on Batik between 1850 and 1890 on the North-coast of Java, Indonesia.
Answers are given in words and images to the following question: How was Batik influenced by Europe?
Can this influence truly be traced back to one or two individuals, Indo- European Batik entrepreneurs Carolina Josephina von Franquemont and Catharina Carolina van Oosterom-Philips? And what other factors played a role in this development? How is this evident in Batik designs from before 1890, from before Batiks were signed, and what can actually be considered as an (Indo-) European influence?
A major part of the project consists of finding ways of making what is found available for Indonesian Batikmakers and other interested parties. Last October, I launched the project on Java with a series of talks, discussions and workshops hosted by museums and local organisations. At the moment, I am mostly working on articles and researching the provenance of Batiks from the museum collections in combination with earlier done archival research on other locations.
Bio
Sabine Bolk (1984) is a Dutch artist who has been exploring Batik, the Indonesian resist-dye technique for textile, for the last 11 years. The inspiration doesn't only come from the technique, but also from the language of the patterns and the philosophy of Batik. On her blog 'The journey to Batik' she writes about her discoveries, journeys and research. Sabine is currently a Research Associate at the Research Center for Material Culture in Leiden (NL) to research the batik collections in Dutch museums & archives. She writes for different platforms, organises events, gives talks, presentations and workshops. She not only gets inspiration from Batik, she also works on promoting, preserving and protecting Batik.